ZITO, MIKE - Blood Brothers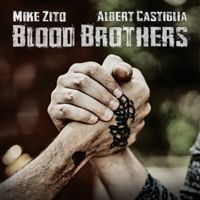 20.00 Euros TTC
Cet article n'est plus disponible.
L'ancien guitariste du ROYAL SOUTHERN BROTHERHOOD s'est associé à l'occasion à ALBERT CASTIGLIA pour un sommet de la guitare blues rock produit par JOE BONAMASSA !
Albums Originaux - Blues - CD - 2023
1. Hey Sweet Mama
2. In My Soul
3. Tooth and Nail
4. Fool Never Learns
5. A Thousand Heartaches
6. My Business
7. You're Gonna Burn
8. Bag Me, Tag Me, Take Me Away
9. No Good Woman
10. Hill Country Jam
11. One Step Ahead Of The Blues

L'article sélectionné a bien été ajouté à votre panier.