ALLMAN BROTHERS BAND - Wipe The Windows, Check ...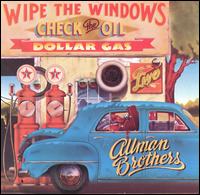 ALLMAN BROTHERS BAND
Wipe The Windows, Check The Oil, Dollar Gas
18.00 Euros TTC

Après de longues années de disparition des bacs, voilà le second album live (1976) de l'ABB à nouveau disponible.
Albums Originaux - Southern Rock - CD - 2022
1. Introduction By Bill Graham
2. Wasted Words
3. Southbound
4. Ramblin' Man
5. In Memory Of Elizabeth Reed
6. Ain't Wastin' Time No More
7. Come And Go Blues
8. Can't Lose What You Never Had
9. Don't Want You No More
10. It's Not My Cross To Bear
11. Jessica


Gregg Allman - keyboards & vocals
Dickey Betts - lead guitar & vocals
Chuck Leavell - keyboards
Lamar Williams - bass
Jaimoe - drums
Butch Trucks - drums
L'article sélectionné a bien été ajouté à votre panier.