BONAMASSA, JOE - Now Serving: Royal Tea Live Fr...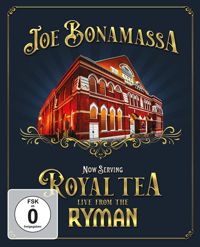 BONAMASSA, JOE
Now Serving: Royal Tea Live From The Ryman
23.00 Euros TTC

Concert enregistré lors d'un "livestream event" en pleine pandémie du Covid-19 !
DVD - 2021 - Toutes zones (0) - Blues
1. Intro With Jeff Daniels
2. When One Door Opens
3. Royal Tea
4. High Class Girl
5. Lookout Man!
6. Why Does It Take So Long To Say Goodbye
7. A Conversation With Alice
8. I Didn't Think She Would Do It
9. Beyond The Silence
10. Lonely Boy
11. Cradle Rock
12. Walk In My Shadow
13. A New Day Yesterday / Starship Trooper - Wurm

L'article sélectionné a bien été ajouté à votre panier.