BONAMASSA, JOE - Now Serving: Royal Tea Live Fr...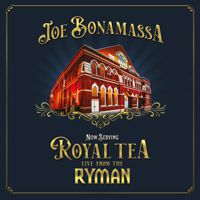 BONAMASSA, JOE
Now Serving: Royal Tea Live From The Ryman
21.00 Euros TTC

Concert enregistré lors d'un "livestream event" en pleine pandémie du Covid-19 !
Albums Originaux - Blues - CD - 2021
1. When One Door Opens
2. Royal Tea
3. High Class Girl
4. Lookout Man!
5. Why Does It Take So Long To Say Goodbye
6. A Conversation With Alice
7. I Didn't Think She Would Do It
8. Beyond The Silence
9. Lonely Boy
10. Cradle Rock
11. Walk In My Shadow
12. A New Day Yesterday / Starship Trooper - Wurm

L'article sélectionné a bien été ajouté à votre panier.