VARIOUS ARTISTS - Mo' Peaches Volume 1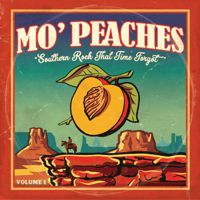 15.00 Euros TTC

S'inspirant des célèbres compilations "Peaches" de Capricorn Records dans les seventies, voilà aujourd'hui les "Mo' Peaches" qui présentent le meilleur des groupes actuels de southern rock.
Compilation - Southern Rock - CD - 2020
1. John Mohead – Due South
2. Alligator Stew – Louisiana Man
3. Judge Parker – Slow Down Irene
4. Bishop Black – Long Road To Bama
5. Morrison Brothers Band – Little Miss Whiskey
6. Chase Walker Band – Red House
7. Railbenders – Black Chrome Horse
8. Alligator Jackson – Enjoy The Ride
9. Eat A Peach – Ain't Wastin' Time No More
10. The Remus Tucker Band – Bury Me On The Banks Of Mississippi

L'article sélectionné a bien été ajouté à votre panier.