EAGLES - Before They Were Famous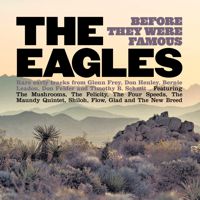 EAGLES
Before They Were Famous
17.00 Euros TTC

Compilation présentant les différents groupes dans lesquels les membres des Eagles se sont illustrés avant de former le plus célèbre des groupes de country rock.
Compilation - Country - CD - 2021
THE FOUR SPEEDS (featuring Don Henley)
1. Variety
2. Why Did You Leave Me?

THE NEW BREED (featuring Timothy B. Schmit)
3. Green Eyed Woman
4. The Sound Of The Music
5. Want Ad Reader
6. One More For The Good Guys
7. The Sound Of Music
8. I've Been Wrong Before

FELICITY (featuring Don Henley)
9. Hurtin'

THE MUSHROOMS (featuring Glenn Frey)
10. Burned
11. Such A Lovely Child

THE MAUNDY QUINTET (featuring Bernie Leadon & Don Felder)
12. 2'S Better Than 3

GLAD (featuring Timothy B. Schmit)
13. A New Tomorrow
14. Say What You Mean
15. Bedtime Story
16. Pickin' Up The Pieces
17. Shapes Of Things To Come
18. Love Needs The World
19. Sweet Melinda
20. Let's Play Make Believe
21. No Ma It Can't Be
22. Two Worlds
23. Johnny Silver's Ride

SHILOH (featuring Don Henley)
24. Simple Little Down Home Rock 'N' Roll Love Song for Rosie
25. Jennifer O My Lady

FLOW (featuring Don Felder)
26. Mr Invisible
27. Line 'Em
L'article sélectionné a bien été ajouté à votre panier.