KUKO DE KOBRA - Return To Splendour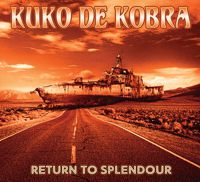 16.00 Euros TTC

le guitariste de BLINDSTONE, MARTIN J. ANDERSEN s'est associé à John Gamma Sharling pour la premier album de ce nouveau heavy power trio !
Albums Originaux - Hard Rockin' Bands - CD - 2020
1. Ocean Wide
2. Curse Of The Elephantom
3. Silence The KIller
4. Bed
5. Return To Splendour
6. Be, Leaf
7. Riffhanger
8. Save Our Ashes For The Fire
9. Lone Bird On A Long Wire
10. Neurotic
11. Echo Of Stevenson
12. Remember

John Gamma Sharling – bass, rhythm guitar & lead vocals
Martin J. Andersen – lead guitar & background vocals
Martin Pagaard Wolff – drums, percussion, bass, rhythm guitar & background vocals
L'article sélectionné a bien été ajouté à votre panier.