CREEDENCE CLEARWATER REVIVAL - In The Beginning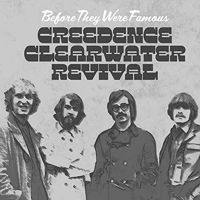 16.00 Euros TTC

Enregistrements pré-Creedence Clearwater Revival (1964-1967) lorsque le groupe s'appelait encore The Golliwogs.
Albums Originaux - Classic Rock - CD - 2020
1. Don't Tell Me No Lies
2. Little Girl (Does Your Mama Know)
3. Where You Been
4. You Came Walking
5. You Can't Be True
6. You Got Nothin' On Me
7. Brown-Eyed Girl
8. You Better Be Careful
9. Fight Fire
10. Fragile Child
11. Walking On The Water
12. You Better Get It Before It Gets You
13. Porteville
14. Call It Pretending

L'article sélectionné a bien été ajouté à votre panier.