LYNYRD SKYNYRD - Street Survivors: The True Sto...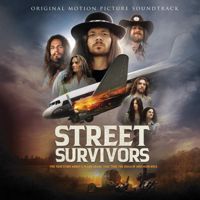 LYNYRD SKYNYRD
Street Survivors: The True Story Of The Lynyrd Skynyrd Plane Crash (Soundtrack)
20.00 Euros TTC

Bande son du film consacré l'accident d'avion de Lynyrd Skynyrd ; ne contient aucune musique du groupe mais des morceaux dans son esprit musical joués par les fils d'Artimus Pyle ainsi que Pat Travers. Une composition est signée WARREN HAYNES !
Albums Originaux - Southern Rock - CD - 2020
1. Southern Feeling (Last Day) - Marshall Pyle
2. Wish - Lorenzo Green
3. Black Creek - Chris Pyle
4. Curse - Chris Pyle
5. Rattlesanke - Chris Pyle
6. In Memory Of - Bryan Mabry & Chris Leuzinger
7. Street Survivor - Scott Raines
8. 6 Souls (Score)
9. Call Me The Breeze - Pat Travers
10. Last Flight (Score)
11. A Remembrance (Score)
12. Rescue (Score)
L'article sélectionné a bien été ajouté à votre panier.