BONAMASSA, JOE - A New Day Now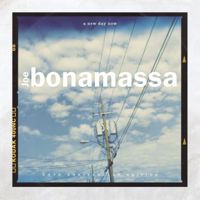 20.00 Euros TTC

Pour les 20 ans de la sortie de "A New Day Yesterday", premier album solo du guitariste, il nous propose aujourd'hui une version mise à jour avec trois titres supplémentaires mais aussi de nouveaux vocaux, de nouveaux mixages, le tout remastérisé.
Albums Originaux - Blues - CD - 2020
1. Craddle Rock
2. Walk In My Shadows
3. A New Day Yesterday
4. I Know Where I Belong
5. Miss You, Hate You
6. Nuthin' I Would Do
7. Colour And Shape
8. Headhaches To Heartbreaks
9. Trouble Waiting
10. If Heartaches Were Nickels
11. Current Situation
12. Don't Burn Down That Bridge

Bonus Tracks :
13. Hey Moma
14. I Want You
15. Line Of Denial

Joe Bonamassa - guitar & vocals
Tony Cintron - bass
Creamo Liss - drums
Additional musicians :
Gregg Allman - organ & vocals
Rick Derringer - guitar
Leslie West - guitar
L'article sélectionné a bien été ajouté à votre panier.