BANDS OF DIXIE - Bands Of Dixie n° 115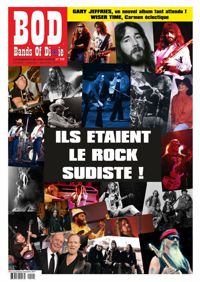 6.50 Euros TTC

Magazine en français sur le southern rock avec MOLLY HATCHET, WISER TIME, GARY JEFFRIES, JAY JOHNSON...
Magazine - 2017 - Collectif - Southern Rock
SOMMAIRE :
ILS ETAIENT LE ROCK SUDISTE - hommage aux musiciens décédés
DAVE HLUBEK - hommage
GARY JEFFRIES - interview
WISER TIME - interview
PETER ALEXANDER BAND - interview
THE KUDZU BAND - collector's corner
JAY JOHNSON - desert Island discs
LYNYRD SKYNYRD - il y a 40 ans... le crash !

CHRONIQUES CD & DVD :
Gregg Allman - Southern Blood
The Bootleggers - Southern Roads
The Drugstore Gypsies - The Drugstore Gypsies
Gary Jeffries - I Ain't Done Yet
Chris Robinson Brotherhood - Barefoot In The Head
Phil Swindle - Art Of Soul
Wiser Time - Within'

OTHER ROADS... OTHER SONGS :
Sonny Landreth - interview
Journey - story part. 2
Tom Petty - hommage
Country Express / Hard Xpress
Chroniques CD & DVD
et les rubriques habituelles

L'article sélectionné a bien été ajouté à votre panier.