BANDS OF DIXIE - Bands Of Dixie n° 114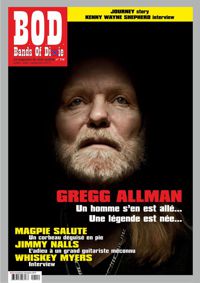 6.50 Euros TTC

Magazine en français sur le southern rock avec GREGG ALLMAN, JIMMY NALLS (SEA LEVEL), MAGPIE SALUTE, WHISKEY MYERS...
Magazine - 2017 - Collectif - Southern Rock
SOMMAIRE :
GREGG ALLMAN - portrait
GREGG ALLMAN - rencontre
WHISKEY MYERS - interview
MAGPIE SALUTE - interview
JIMMY NALLS - interview
SOUTHERN ASHE - collector's corner
LA SLIDE DANS LE SOUTHERN ROCK - dossier
NATCHEZ - concert
SPECIAL COMPILATIONS - desert Island discs
HUGHIE THOMASSON - il y a 10 ans...

CHRONIQUES CD & DVD :
Allman Brothers - Unplugged
Duane Allman - The Legend The Legacy
Don Barnes - Ride The Storm
Dickey Betts - Live From Metropolis, Germany
Randall Bramblett - Juke Joint At The Edge Of The World
Gov't Mule - The Revolution Come... The Revolution Go
Magpie Salute - The Magpie Salute
Atlanta Rhythm Section - Truth In A Structured Form (réédition)
Redstone - Redstone (réédition)

OTHER ROADS... OTHER SONGS :
Kenny Wayne Shepherd - interview
Journey - story part. 1
Blues Express
Chroniques CD & DVD

L'article sélectionné a bien été ajouté à votre panier.