BANDS OF DIXIE - Bands Of Dixie n° 110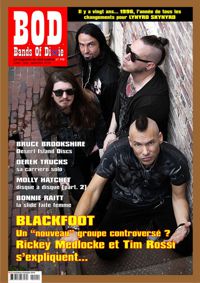 6.50 Euros TTC

Magazine en français sur le rock sudiste avec BLACKFOOT, DOC HOLLIDAY, DEREK TRUCKS, MOLLY HATCHET...
Magazine - 2016 - Collectif - Southern Rock
SOMMAIRE :
BLACKFOOT - interviews
LYNYRD SKYNYRD - il y a 20 ans...
DEREK TRUCKS - Mycology, a discography
TOSHIHO SUMITOMO - interview
BOUNTY HUNTER - collector's corner
GOV'T MULE - concert
MOLLY HATCHET - disque à disque (part. 2)
BRUCE BROOKSHIRE - Desert Island Discs

CHRONIQUES CD & DVD :
Allman Brothers - Back In the Saddle 1991
BC & The Big Rig - Day Late Dollar Short
Blackfoot - Southern Native
Blackfoot - Chicago 1980 & Hollywood 1983
Gov't Mule - The Tel-Star Sessions
Lizard - On the Road
Lynyrd Skynyrd - Southern Fried Rock Boogie
The Outlaws - Live At The Bottom Line, NY '86
Royal Southern Brotherhood - The Royal Gospel
Southern Allstars - Live Radio Broadcast, Capitol Theatre, Passaic, NJ, May 7th 1983
Van Zant - Red White & Blue (Live)
Hank Williams Jr. - It's About Time

Rééditions :
Albatros - Rockin' The Sky
Bear Mountain Band - One More Day
Diamond Gray - Live To Play... Play To Live
Eclipse - Freedom Of The Ride
Eclipse - Ride Through The Dalands
Point Blank - American Exce$$
Point Blank - On A Roll
Rebel Pride - Rebel Pride
Van Wilks - Bombay Tears

OTHER ROADS... OTHER SONGS :
Bonnie Raitt - story
New Orleans - La ville où la musique ne s'arrête jamais (part.3)
Blues Express
Chroniques CD & DVD
et les rubriques habituelles...

L'article sélectionné a bien été ajouté à votre panier.