BANDS OF DIXIE - Bands Of Dixie n° 100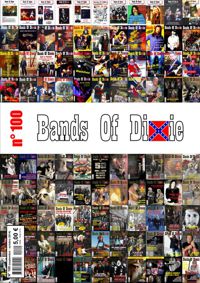 5.00 Euros TTC

Magazine en français sur le rock sudiste avec POSTER ! Spécial n° 100 !
Magazine - 2014 - Collectif - Southern Rock
SOMMAIRE :
THE ALLMAN BROTHERS BAND - mycology
DOSSIER - les 100 perles cachées du rock sudiste :
WINTERS BROTHERS BAND : A Gun Don't Mind
MOSE JONES : Alien
OUTLAWS : Alligator Alley
HUGHIE THOMASSON & THE OUTLAWS : Angels, Brothers & Friends
EAT A PEACH : Another Day, Another Time
TIM BROOKS : Blind Willy McTell
JOAN BAEZ : Blue Sky
DAVE CHASTAIN : Breezin'
OUTLAWS : Brother Travis
BROTHERS OF THE SOUTHLAND : Brothers Of The southland
LAIDLAW : Catfish Stew
LUCKY BLONDO : ce vieux cow-boy (This Ol' Cowboy)
ALLMAN BROTHERS BAND : Change My Way Of Living
ALIAS : Child Of Fortune
RED ROCK ROOSTERS : Circuit Rider
OUTLAWS : Cold Harbor
ATLANTA RHYTHM SECTION : Crazy
DOC HOLLIDAY : Damn Yankees
STILLWATER : Danger zone
ALLGOOD : Down Here Where I Live (ou Blood)
ED KING : Eileen
LYNYRD SKYNYRD : End of the road
BLACKFOOT : Fire Of The Dragon
WYNONA : Freebird
TAMMY VAN ZANT : Freebird Child
STEVE GAINES : Give It To Get It
HYDRA : Going Down
ERIC QUINCY TATE : Half Ain't Been Told
TOY CALDWELL : Hear The South Calling Me
MARSHALL TUCKER BAND : Heartbroke
38 SPECIAL : Honky Tonk Dancer
GRINDERSWITCH : I Count The Tears
LYNYRD SKYNYRD : I've Been Your Fool
ALLMAN BROTHERS BAND : Just Ain't Easy
LYNYRD SKYNYRD : Kiss Your Freedom Goodbye
CHARLIE DANIELS : Land Of Opportunity
REGULATORS : Last Chance
SKYBOYS : Lee John Sloaner
DUANE ALLMAN : Little Martha
DAN TOLER : Living in your past
LITTLE FEAT : Locomotives
COPPERHEAD : Long Way From Home
DAVE CHASTAIN : Losin' You Blues
DIXIE DREGS : Macon Bacon
SEA LEVEL : Make You Feel Love Again
WET WILLIE : Make You Feel Love Again
MAMA'S PRIDE : Maybe
TOY CALDWELL : Midnight Promises
EAT A PEACH : Moonrings
DICKEY BETTS : Nancy
DRIVIN' SIDEWAYS : Nascar Diehards
POTLIQUOR : New York City You Ain't
LIZARD : Nights in White Satin
DEREK TRUCKS & WARREN HAYNES : Old Friend
MOLLY HATCHET : On The Prowl
OUTLAWS : One Last Ride
GREGG ALLMAN : One More Try
MIKE ESTES & BRAVE NEW SOUTH : Politicaly Incorrect
ATLANTA RHYTHM SECTION : Putting My Faith In Love
GREGG ALLMAN : Rain
BLACKFOOT : Reckless Abandonner
MOLLY HATCHET : Respect Me In The Morning
GEORGE HATCHER : Rich Girl
STREET SURVIVORS : Road To Jacksonville
POINT BLANK : Rock'n'Roll Soldier
BONNEVILLE : Roll On
JIMMIE VAN ZANT : Ronnie's song
LES DUDEK : Sacrifice The Fool
MOLLY HATCHET : Sailor
STILLWATER : Sam's Jam
BLACKBERRY SMOKE : Shake Your Magnolia
MAMA'S PRIDE : She's A Stranger To Me Now
POINT BLANK : Shine On
GHOST RIDERS : Shotgun Run
LOUISINA'S LEROUX : Slow Burn
MISSOURI : So Far Away
BLACK OAK ARKANSAS : So You Want To Be a Rock & Roll Star
ROSSINGTON COLLINS BAND : Sometimes You Can Put It Out
XEBEC : Spirit Of The City
RANDALL HALL BAND : Square Peg
BROTHER BROOKS : Stand still
ELVIN BISHOP : Sunshine Special
CHARLIE DANIELS : Sweet Home Alabama
REGULATORS : Sweet Sustain
38 SPECIAL : Take me Back
DRIVIN' SIDEWAYS : The Ballad Of Junior Johnson
38 SPECIAL : The Love That I've Lost
MOLLY HATCHET : The Rambler
ALLEN COLLINS BAND : This Ride's On Me
MARSHALL TUCKER BAND : Walkin' & Talkin'
LYNYRD SKYNYRD : Was I Right Or Wrong
COWBOY : What Can I Call It?
OKLAHOMA : Whatcha Treatin' Me So Bad For?
FRANK ZAPPA : Whipping Post
LYNYRD SKYNYRD : White Knuckle Ride
MAMA'S PRIDE : Who Gave The Right
LYNYRD SKYNYRD : Woman Of Mine
JOHNNY VAN ZANT : Yesterday's Gone
GRINDERSWITCH : You And Me
JACKSON HIGHWAY : You're Looking Good

CHRONIQUES CD & DVD :
Blackberry Smoke - Leave A Scar Live North Carolina
Mike Mattison - You Can't Fight Love
Plug & Play - Times
Chris Robinson Brotherhood - Phosphorescent Harvest
Rich Robinson - Ceaseless Light
ZZ Top - Live At Montreux 2013 (DVD)

et les rubriques habituelles...
Blues Express, Other Roads... Other Songs

L'article sélectionné a bien été ajouté à votre panier.