RYDER, MITCH - Detroit Breakout!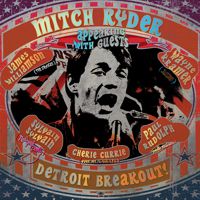 23.00 Euros TTC

Album de duos avec des stars comme WAYNE KRAMER (MC5), JOE LOUIS WALKER, CHERIE CURRIE (RUNAWAYS), SYLVAIN SLVAIN (NEW YORL DOLLS), etc...
Albums Originaux - Classic Rock - CD - 2019
1. Devil With A Blue Dress (feat. James Williamson)
2. Cool Jerk (feat. Wayne Kramer & Brian Auger)
3. Dirty Water (feat. Sylvain Sylvain)
4. Turn Back The Hands Of Time (feat. Shirley King)
5. Have Love, Will Travel (feat. Paul Rudolph)
6. (I'm Not Your) Steppin' Stone (feat. Walter Lure)
7. Dream Baby (How Long Must I Dream) (feat. Cherie Currie)
8. (Sittin' On) The Dock Of The Bay (feat. Arthur Adams)
9. Just My Imagination (Running Away With Me) (feat. Lee Oskar)
10. Bad, Bad Leroy Brown (feat. Joe Louis Walker)
11. You Send Me (feat. Linda Gail Lewis)
12. Twistin' The Night Away (feat. Joe Louis Walker)
13. If I Had A Hammer (feat. Linda Gail Lewis)
14. Shout (feat. Linda Gail Lewis)

L'article sélectionné a bien été ajouté à votre panier.