KENTUCKY HEADHUNTERS - Live At The Ramblin' Ma...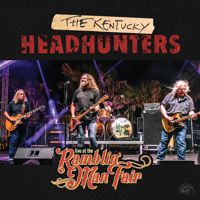 20.00 Euros TTC

Second album live du groupe qui nous offre encore une grosse d'ose d'énergie ! 3 titres bonus en studio avec Johnnie Johnson
Albums Originaux - Country - CD - 2019
1. Introduction
2. Big Boss Man
3. Ragtop
4. Stumblin'
5. Shufflin' Back to Memphis
6. Have You Ever Loved A Woman?
7. Wishin' Well
8. Walking With The Wolf
9. My Daddy Was A Milkman
10. Don't Let Me Down

Studio bonus tracks with Johnnie Johnson & Anthony Kenney
11. Rock Me Baby
12. Rock 'n' Roller
13. Hi-Heel Sneakers

L'article sélectionné a bien été ajouté à votre panier.