BLINDSTONE - Blues-O-Delic Celebration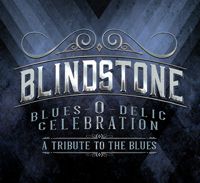 BLINDSTONE
Blues-O-Delic Celebration
16.00 Euros TTC

Le guitariste de BLINDSIDE BLUES BAND retrouve son projet parallèle BLINDSTONE pour rendre hommage aux musiciens de blues qui l'ont inspiré : les 3 King (BB, Albert et Freddie), mais aussi ZZ TOP, PETER GREENE, JIMI HENDRIX, LESLIE WEST ou encore WILLIE DIXON !
Albums Originaux - Blues - CD - 2017
1. Rock Me Baby (BB King cover)
2. Blood Stream (Rocky Hill)
3. Pack It Up (Freddie King)
4. Me And My Woman (inspired by the Shuggie Otis version)
5. Old School (Guitar Shorty)
6. Somethin's Got A Hold On Me (The Gales Bros.)
7. Built For Comfort (Willie Dixon)
8. By The River (Leslie West)
9. Bar-B-Q (ZZ Top)
10. Finger On The Trigger (Albert King)
11. The Blues Come Over Me (BB King)
12. Stone Crazy (inspired by The Peter Greene Version)
13. Hey Joe (inspired by The Jimi Hendrix version)

Martin J. Andersen - guitar, keyboards & vocals
Jesper Bunk - bass
Sigurd Johnk-Jensen - drums
L'article sélectionné a bien été ajouté à votre panier.