FOGHAT - Live In St. Pete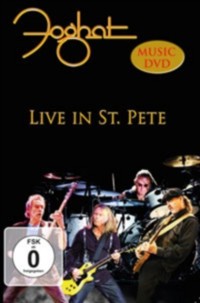 FOGHAT
Live In St. Pete
23.00 Euros TTC

Concert enregistré le 15 octobre 2011 au Jannus Landing de St. Petersburg en Floride.
DVD - 2016 - Toutes zones (All) - Classic Rock
1. Road Fever
2. Take Me To The River
3. My babe
4. Bottle Neckin'
5. Drivin' Wheel
6. Stone Blue
7. Rollin' & Tumblin' / You Need Love
8. Terraplane Blues
9. Fool For The City
10. I Just Want To Make Love To You
11. Slow Ride

Roger Earl - drums
Craig McGregor - bass
Bryan Bassett - lead & slide guitar
Charlie Huhn - guitar & vocals
Approx. Time : 81 minutes
This musical release from classic rock band Foghat captures a live performance by the group, recorded in St. Petersberg, Florida in 2011, and featuring tracks like "Rollin' & Tumblin'", "Slow Ride", and more.
Fans will soon be able to experience the high energy of a Foghat concert from the comfort of their living room, with the DVD release of their performance at Jannus Landing, "LIVE IN ST. PETE." While most classic rock bands have made it due to monster selling studio albums, Foghat has always been an exception to that rule with their 1977 "FOGHAT LIVE" album being their biggest seller! (Double Platinum). And this holds true to this day as Foghat still tours relentlessly with their thunderous blend of blues, boogie and rock n' roll. They hit the stage with all cylinders firing and still remain one of the best live bands today with not only as much energy but with 40+ years of additional experience. One concert review stated "There is so much talent in this band it is ridiculous". The man who we have to thank for keeping Foghat going and never stopping is founding member Roger Earl who treats the fans to a wicked drum solo. Incredible bassist Craig Macgregor has been a Foghat member since 1975 and played on some of their most successful albums in the 70's including "FOGHAT LIVE." Lead/slide guitarist Bryan Bassett played with Wild Cherry and Molly Hatchet, while vocalist/guitarist Charlie Huhn played with Ted Nugent and Humble Pie. All of Foghat's classics are included in this DVD - "Fool for the City," "I Just Want to Make Love to You," "Stone Blue," "Drivin' Wheel," " My Babe," and of course, "Slow Ride." A stellar review of this show states: "We were in the front row which proved to be a dangerous situation as we were directly in Bassett's "shred zone" and our faces were completely melted off. He played a cherrywood Gibson SG and was a Jedi Slide Master. Overall, the concert was exactly what you would expect from Foghat. Lengthy guitar solos, mostly the hit songs that they are known for, playing to the crowd and a 15 minute Slow Ride encore!" Perhaps the editor of the popular Classic Rock Revisited website, Jeb Wright, sums it up best in the DVD's liner notes - "Brilliant Simplicity is the term I use to describe the music of Foghat. As a band, they do not try to dazzle you with their virtuosity, or baffle you with their bullshit. Instead, as this DVD, proves, they simply rock you to your core and put a smile on your face."
L'article sélectionné a bien été ajouté à votre panier.