BETTS, HALL, LEAVELL, TRUCKS (B.H.L.T.) - Live ...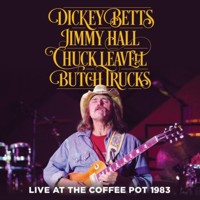 22.00 Euros TTC

Concert enregistré au Coffee Spot de Roanoke en Virginie. Existe également en DVD.
Radio Show - Southern Rock - CD - 2016
1. Nothing You Can Do (There Ain't) - 3:59
2. Whole Lotta Memories - 5:01
3. Lorraine - 4:25
4. One Track Mind - 5:25
5. Ramblin' Man - 4:36
6. Rain - 4:21
7. Pick A Little Boogie - 3:46
8. Let Me Ride - 4:43
9. Stop Knocking On My Door - 4:16
10. Cadillac Tracks - 12:12
11. Jessica - 8:53
12. Southbound - 8:02
13. Rollin' - 4:27
14. I Believe To My Soul - 5:22

Dickey Betts - guitar & vocals
Jimmy Hall - saxophone & vocals
Chuck Leavell - keyboards & vocals
Butch Trucks - drums
David Goldflies - bass
Danny Parks - fiddle, guitar & background vocals

After the Allman Brothers split up in 1982, Dickey Betts formed a new band, recruiting Jimmy Hall (Wet Willie) as co-leader. Fellow ABB members Chuck Leavell, David Goldflies and Butch Trucks joined, forming the Betts, Hall, Leavell, and Trucks Band (aka BHLT).
Dickey Betts joined the Allman Brothers Band as second lead guitarist and singer in the late '60s. In addition to matching bandleader Duane Allman lick for lick, Betts also wrote such memorable songs as Revival(number 92, 1971) and the instrumental tour de force In Memory of Elizabeth Reed.
Jimmy Hall, former lead vocalist and harmonica player for Wet Willie, has a long and varied background as a performer; Hall co-founded Wet Willie in 1970; over the next ten years, Hall and the group toured with Aerosmith, the Allman Brothers Band, Grand Funk Railroad and the Grateful Dead.
In the who's who of rock & roll, Chuck Leavell is a very big someone. His piano and keyboard playing has graced the albums and/or stages of the Rolling Stones, Eric Clapton, the Allman Brothers Band, the Black Crowes, George Harrison, Blues Traveler, the Marshall Tucker Band, Hank Williams Jr. and a long list of others.
One of the founding members of The Allman Brothers Band, drummer Butch Trucks continued to record and perform with the Allman Brothers Band until they disbanded in 2014.
This live performance was recorded at The Coffee Pot, Roanoke, VA, in January of 1983.
L'article sélectionné a bien été ajouté à votre panier.