LYNYRD SKYNYRD - Another Road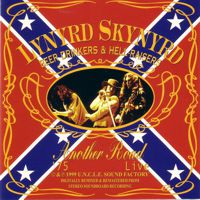 15.00 Euros TTC

Enfin en version intégrale le concert du groupe à Cardiff en novembre 1975 et diffusé à la radio pour le King Biscuit Flower Hour.
Radio Show - Southern Rock - CD - 2003
1. Double Trouble
2. I Ain´t The One
3. The Needle And The Spoon
4. Saturday Night Special
5. Gimme Three Steps
6. I Got The Same Old Blues
7. Simple Man
8. Whiskey Rock-A-Roller
9. Call Me The Breeze
10. T For Texas
11. Sweet Home Alabama
12. Free Bird

Ronnie Van Zant – vocals
Gary Rossington – guitar
Allen Collins – guitar
Billy Powell – keyboards
Leon Wilkeson – bass
Artimus Pyle – drums
L'article sélectionné a bien été ajouté à votre panier.