MONTGOMERY GENTRY - My Town + You Do Your Thing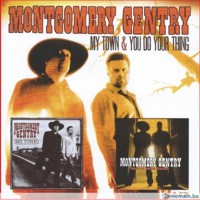 5.00 Euros TTC

Deux albums studio du duo réunis en un double CD remastérisé. Avec la reprise du "Good Clean Fun" des ALLMAN BROTHERS !
Albums Originaux - Country - 2CD - 2011
CD1 : "My Town"
1.- My Town (piano intro)
2.- My Town
3. Break My Heart Again
4. Scarecrow
5. Bad For Good
6. Speed
7. Hell Yeah
8. Lonesome
9. Why Do I Feel Like Running
10. Free Fall
11. Life Before You Leave
12. For The Money
13. Good Clean Fun (Allman Bros.)

CD2 : "You Do Your Thing"
1. Something to Be Proud Of
2. You Do Your Thing
3. If You Ever Stop Loving Me
4. If It's the Last Thing I Do
5. She Loved Me
6. Gone
7. All I Know About Mexico
8. I Got Drunk
9. It's All Good
10. I Ain't Got It All That Bad
11. Talking to My Angel
12. I Never Thought I'd Live This Long

L'article sélectionné a bien été ajouté à votre panier.