BLAND, BOBBY - Get On Down + Reflections In Blue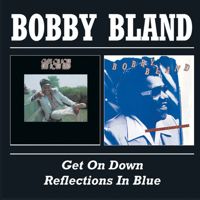 BLAND, BOBBY
Get On Down + Reflections In Blue
12.00 Euros TTC
Cet article n'est plus disponible.
Deux albums originaux (1975 & 1977) réunis sur un seul CD remastérisé.
Albums Originaux - Blues - CD - 1999
1. I Take It On Home
2. Today I Started Loving You Again
3. You've Always Got The Blues
4. I Hate You
5. You've Never Been This Far Before
6. If Fingerprints Showed Up On Skin
7. Someone To Give My Love To
8. Too Far Gone
9. You're Gonna Love Yourself
10. The Soul Of A Man
11. I'll Be Your Fool Once More
12. Sittin' On A Poor Man's Throne
13. I Intend To Take Your Place
14. It Ain't The Real Thing
15. It's All Over
16. If I Weren't A Gambler
17. Five Long Years
18. I Got The Same Old Blues
L'article sélectionné a bien été ajouté à votre panier.